Editor's Pick: Opposing Roles of Inhibitory Signaling in Basolateral Amygdala Subdivisions in Auditory Fear Learning
April 18, 2019
This article in eNeuro was a highlight for me because Tipps and colleagues used a chemogenetic approach to dissect the role of excitatory (pyramidal) and inhibitory (GABAergic) neurons in auditory fear learning. Fear learning helps animals associate the presence of a particular stimulus with an adverse outcome. When such associative learning is not achieved or appropriately extinguished (when the outcome is no longer adverse), maladaptive emotional behaviors can form and be repeated chronically. Understanding the neural basis of fear learning processes is important to develop the most effective treatments for human mental health disorders associated with abnormal associative learning.
Lesioning and pharmacological inhibition studies have shown that the lateral nucleus of the amygdala (LA) subdivision of the basolateral amygdala complex (BLA) plays an important role in fear learning. However, a role for the other BLA subdivision, the basal nucleus of the amygdala (BA) was less clear. In their eNeuro publication, Tipps and colleagues used a chemogenetic approach to manipulate the excitability of LA and BA neurons and discovered that GABAergic inhibition has different roles in LA and BA in auditory fear learning.
Focal intracranial viral injections enabled specific targeting of neuronal subtypes in the LA or BA in CamKIICre and GAD65Cre transgenic mouse lines, in which Cre recombinase is expressed in putative excitatory (pyramidal) and inhibitory cells, respectively. The viral constructs contained either inhibitory hM4Di or excitatory hM3Dq DREADDs (Designer Receptors Exclusively Activated by Designer Drugs) fused to a mCherry fluorescent reporter protein. Targeting of each viral construct to the LA or BA led to fluorescently labeled neurons that exhibited the expected electrophysiological characteristics of those neurons. DREADDs are modified G protein-coupled receptors that are activated by binding of exogenously administered clozapine-n-oxide (CNO). Administration of CNO in CaMKIICre(+)/hM4Di mice lead to the inhibition of the pyramidal neurons that express the construct. Littermate Cre-negative mice served as controls (CNO injection does not modify cell activity).
Mice were administered CNO 30 minutes before the first of three pairings of an auditory cue (conditioned stimulus) and foot shock (unconditioned stimulus). These 3 CS/3US pairings were performed on Day 1. Freezing behavior was determined during "context" (Day 2) and "cue" (Day 3) trials in which mice did not receive a foot shock but were placed in the fear conditioning chamber or exposed to the auditory cue in a novel chamber, respectively. As CNO was not administered on days 2 or 3, neuronal inhibition was restricted to the period of acquisition and consolidation of fear memories only. As expected from previous studies, chemogenetic inhibition of pyramidal neurons in the LA impaired auditory fear learning, as shown by decreased freezing behavior, but inhibition of pyramidal neurons in the BA did not. However, inhibition of GABA neurons in the BA did impair fear learning, showing that BA GABA neurons also contribute to the fear learning process.
A prior study by others had shown that direct optogenetic stimulation of LA pyramidal neurons could act as a US (instead of a foot shock) and evoke a fear response when coupled with an auditory cue during fear conditioning. Therefore, Tipps and colleagues investigated whether chemogenetic manipulation could serve as a US to promote an auditory learned response. Mice were administered CNO before 3 CS/0 US conditioning (three auditory cues but no foot shock). These experiments revealed that a learned freezing response formed either when BA GABA neurons were stimulated, or when BA pyramidal neurons were inhibited (Figure 1). Using electrophysiology, the authors showed that stimulation of BA GABA neurons suppressed the excitability of BA pyramidal neurons.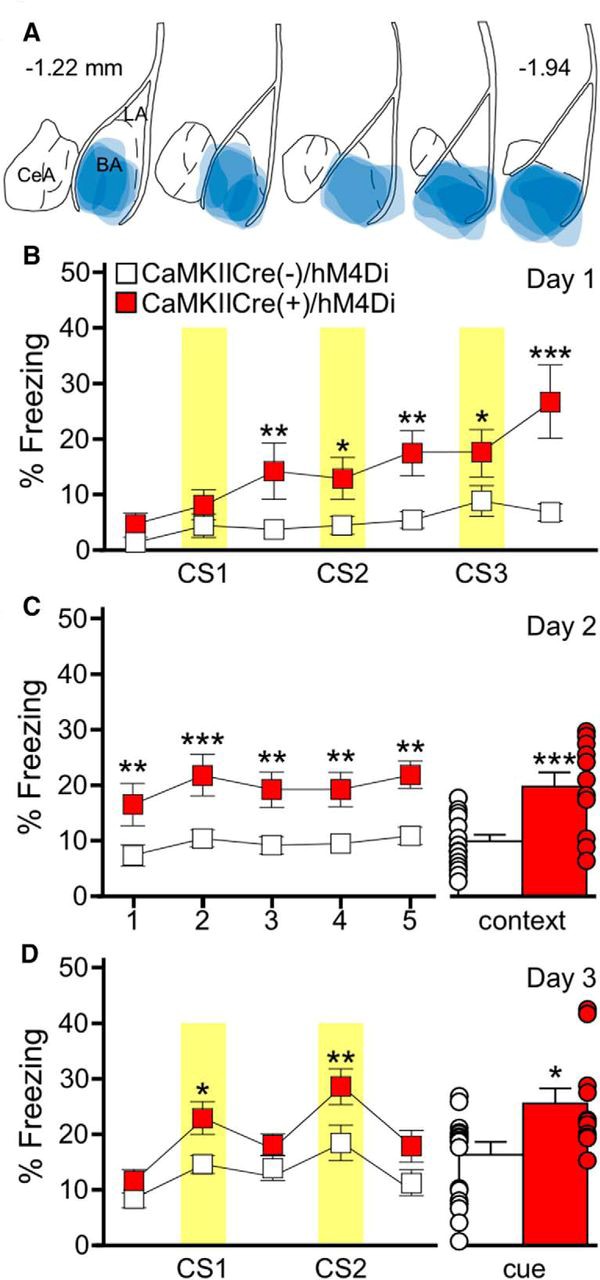 Figure 1. BA pyramidal neuron inhibition generates an association between a behavior and an auditory cue in the absence of a foot shock. (A) Schematic summarizing the distribution of hM4Di-mCherry fluorescence in the BA of the CaMKIICre(+)/hM4Di mice evaluated in B–D. (B) Training on day 1 with the 3 CS/0 US protocol in CaMKIICre(+)/hM4Di (red) and CaMKIICre(−)/hM4Di (white) mice; CNO was given 30 min before training. Yellow bars represent the CS presentations. There was a significant main effect of genotype. (C) Freezing during the context recall test on day 2. Freezing during each 1 min bin of the 5 min test (C, left) showed a main effect of genotype. Mean percentage freezing for the full 5 min context test (C, right). (D) Freezing during the cue recall test on day 3. Freezing during each 3 min portion of the test, with yellow bars representing the CS presentations (D, left). There was a significant effect of genotype as CaMKIICre(+)/hM4Di mice, but not CaMKIICre(−)/hM4Di mice froze significantly more during the CS presentations compared to the non-CS periods. Mean percentage freezing during the combined CS presentations (D, right). Error bars in B–D represent the mean ± SEM, with dots next to each bar denoting the individual data points. (Adapted from Figure 6 in Tipps et al., 2018.)
This publication is an advance in the field because it suggests that the inhibition of BA pyramidal neurons by BA GABA neurons may drive the formation of an auditory learned response. In addition, the results show that the inhibition of BA GABA neurons impairs fear learning. These results highlight an opposing role of inhibitory signaling within BLA subdivisions – auditory fear learning requires excitation and inhibition of pyramidal neurons in the LA and BA, respectively. Dr. Tipps believes that this study carries two main messages: 1) using a chemogenetic approach provides new and complementary insights to optogenetic, lesioning, and pharmacological studies of fear learning; and 2) a contextual change of inhibitory signaling, which is typically considered as a suppressor of behavioral output. That inhibitory signaling in the BA suppresses pyramidal neuron activity and promotes fear learning responses shows that inhibition in specific subcircuits is a necessary component of an important behavioral response. Future studies in Professor Wickman's laboratory (University of Minnesota, MN) aim to determine the role of specific GABA neuronal subpopulations and to apply more temporally restricted chemogenetic inhibition of fear learning.
Read the full article:
Inhibition of Pyramidal Neurons in the Basal Amygdala Promotes Fear Learning
Megan Tipps, Ezequiel Marron Fernandez de Velasco, Allee Schaeffer and Kevin Wickman