Beyond the Paper: A Conversation with Dr. Mahima Sharma
November 9, 2023
Interviewed by Dr. Paige N. McKeon, September 28, 2023
In a recent eNeuro publication, Sharma and colleagues investigated an approved treatment for neurorehabilitation called spinal cord stimulation (SCS). While this is an established treatment, its mechanisms of action are still not fully understood. They discovered and characterized an electrophysiological signal evoked by SCS electrodes that represents spinal synaptic currents. They suggest it may serve as a novel biomarker for optimizing SCS.
"The complexity and adaptability of the brain continue to inspire me, and I'm excited to keep pushing the boundaries of our understanding in pursuit of solutions that can improve lives."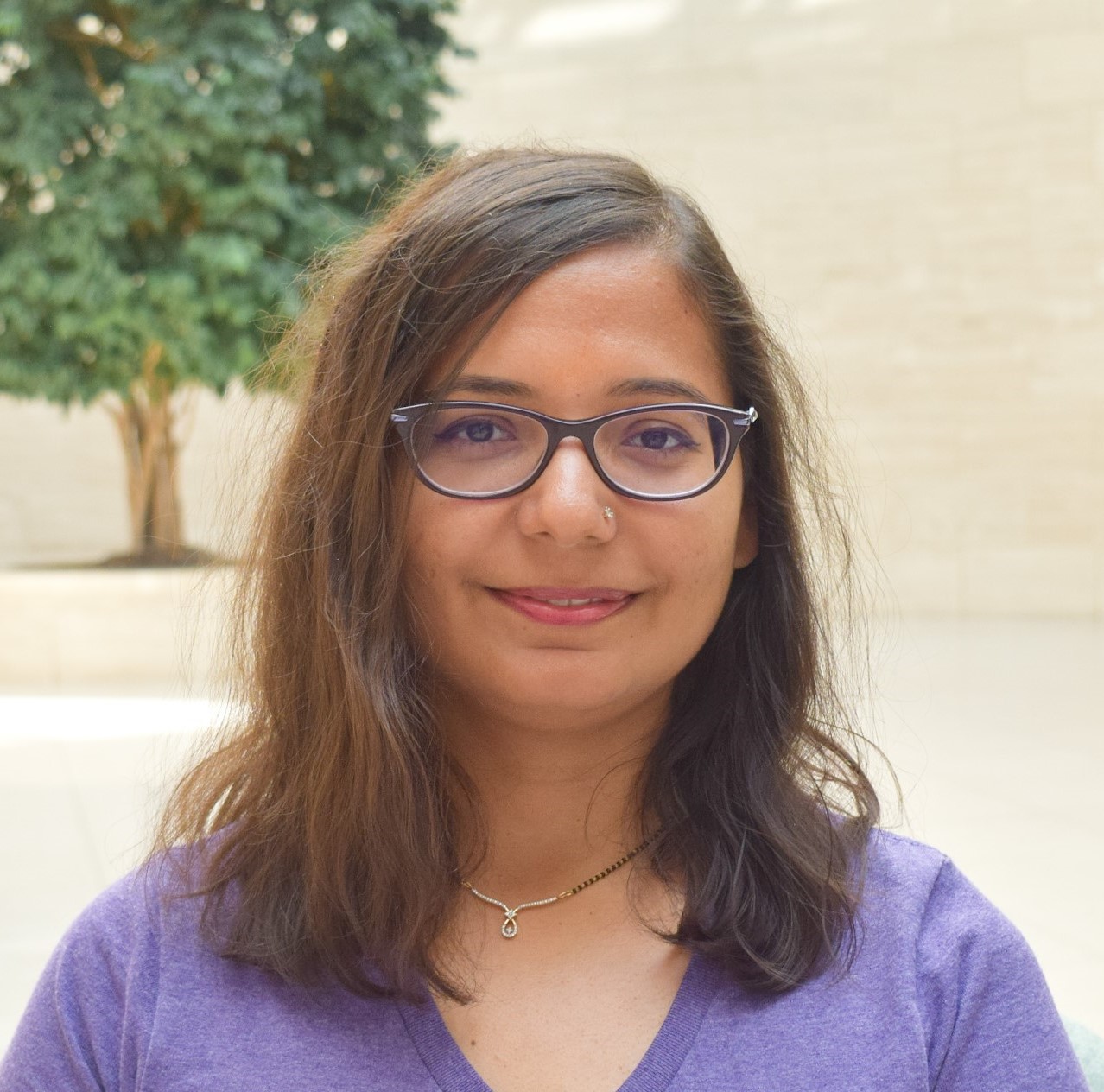 Mahima Sharma, PhD.

You have extensive research experience! Can you tell us a little about your research journey and what ultimately drew you to pursue this particular line of research?
Certainly! My research journey has been an exciting and fulfilling one. I started my academic journey with a deep curiosity about the brain and its complexities, which led me to pursue a Ph.D. in Neuroscience. During my graduate studies, I became fascinated by the intricate mechanisms underlying synaptic plasticity and memory formation. This curiosity inspired me to delve into epigenetic regulation and its impact on synaptic plasticity, which ultimately became the focus of my doctoral research.
My postdoctoral research experiences further enriched my understanding of neural circuits and neuromodulation. I had the opportunity to work on projects involving spinal cord stimulation, direct current stimulation, and their effects on synaptic plasticity and associativity. These experiences solidified my interest in the intersection of neurobiology, technology, and health.
What truly drew me to this particular line of research was the potential to make a tangible impact on human health and well-being. By uncovering the underlying mechanisms of neural plasticity and exploring innovative neuromodulation techniques, I hope to contribute to advancements in neurotechnology and therapies for conditions like neurodegenerative diseases and cognitive impairments. The complexity and adaptability of the brain continue to inspire me, and I'm excited to keep pushing the boundaries of our understanding in pursuit of solutions that can improve lives.
How did you go about selecting your post-doctoral lab(s)? How does being a post doctorate compare to other positions you have had?
Selecting my postdoctoral lab was a crucial decision, and I approached it with careful consideration. I focused on labs that aligned with my research interests and provided an environment conducive to both personal growth and impactful research. The lab of Professor Marom Bikson at the Biomedical Engineering Department of the City College of New York stood out to me due to their groundbreaking work in neuromodulation and electrophysiology. Before joining Professor Bikson's lab, I completed my postdoctoral research in Professor Lucas Parra's lab, where the primary focus was on unraveling the intricacies of mechanistic aspects of transcranial direct current stimulation.
Currently, I am dedicated to advancing my research career in the Tracy lab, where our work is centered on projects of significant importance related to age-related memory loss and the development of potential therapeutics to address this pressing issue.
Comparing my postdoctoral experience with previous positions, I find that being a postdoctoral researcher allows for a deeper exploration of research questions and the chance to take on more independent responsibilities. While my prior roles involved valuable research experiences, the postdoctoral position has provided me with greater autonomy in experimental design and project management. It has also given me the opportunity to collaborate with experts from diverse fields, enhancing my interdisciplinary skills.
Moreover, the postdoctoral phase has enabled me to present my work at international conferences, contribute to high-impact research publications, and actively mentor students. These experiences have not only expanded my research skills but have also prepared me for potential leadership roles in academia and industry. Overall, my postdoctoral position has been a pivotal stage in my career, offering me the chance to contribute meaningfully to scientific advancements and develop the skills necessary for my long-term goals.
"Networking and building relationships can unlock diverse opportunities. Persistence is vital; remember that setbacks lead to insights. Stay curious, question, and balance work and life to sustain your passion."
What are your career goals and how have your lab and research experiences shaped these goals? What advice do you have for young research investigators?
I envision playing an instrumental role in advancing our understanding of neurobiology and memory disorders, ultimately contributing to the development of innovative therapies and interventions. My lab and research experiences have profoundly shaped these goals. Working in cutting-edge laboratories and collaborating with experts across various disciplines has provided me with a holistic perspective on research and its applications. My postdoctoral research, particularly in neuromodulation and electrophysiology, has given me insights into the potential of neurotechnology and health technologies to address neurological challenges.
Moreover, my exposure to both academic and industry environments during my postdoctoral journey has inspired me to explore entrepreneurial opportunities. I believe that bridging the gap between research and practical applications is crucial for translating scientific discoveries into impactful solutions. I am eager to continue learning from the industry while maintaining a strong connection to academia to ensure the translation of research findings into real-world benefits.
For young research investigators, my advice would be to embrace interdisciplinary collaboration and remain open to new ideas and approaches. The scientific landscape is rapidly evolving, and cross-disciplinary interactions often lead to breakthroughs. Networking and building relationships can unlock diverse opportunities. Persistence is vital; remember that setbacks lead to insights. Stay curious, question, and balance work and life to sustain your passion. Seek mentorship from experienced researchers for career guidance.
Directing the conversation towards your eNeuro publication, did the outcomes of this project surprise you? Did you run into any challenges along the way?
My eNeuro publication focused on Spinal Cord Stimulation (SCS), an established therapy for chronic pain. SCS has recently incorporated closed-loop personalized therapy using biomarkers. These biomarkers are electrophysiological signals recorded by the SCS device, known as evoked Compound Action Potentials (eCAPs). While using a rodent model, I recorded eCAPs, which are fast and brief potentials. However, during this research, I observed a second signal, slower and more spatially specific. We named these new signals evoked Synaptic Activity Potentials (eSAPs). Unlike eCAPs, eSAPs originate from deep within the spinal cord and reflect synaptic processing. Discovering a new signal was surprising given the importance and previous research on eCAPs, but it was also exciting to consider how this signal might further enhance SCS therapy for pain.
However, validating that eSAPs were a measure of synaptic processing within the spinal cord presented challenges. The paper includes numerous control experiments ruling out concerns, such as eSAPs being myogenic artifacts. While eCAPs can be detected using a wide range of stimulation and recording configurations, eSAPs require a carefully designed approach, which I developed in the eNeuro paper. In fact, we consider this specificity a virtue if it can guide SCS development.
Can you describe why the specific methods were chosen to address your questions?
Spinal Cord Stimulation is assumed to treat chronic pain by altering how pain signals are processed through the spinal cord. We discovered and validated a novel signal directly reflecting spinal cord processing: the eSAP. A rodent model was appropriate for this stage of new therapeutic signal development. With the broader goal of impacting SCS pain therapy, our approach was translational. The technology we used to both evoke and record eSAPS is analogous to the hardware already used in clinical SCS, specifically percutaneous cylindrical electrode leads. We also considered clinically relevant stimulation waveforms to evoked responses. What was novel in our approach was the configuration of electrodes and signal processing needed to resolve eSAPS, which when optimized are as large (detectable) as eCAPS. During the process of validating that eSAPS were a measure of spinal synaptic processing, we used a range of non-clinical experimental techniques, spanning cortical stimulation to intra-spinal electrode arrays to targeted pharmacology.
Given the established study and clinical value of eCAPS in SCS, it was important to address why they had not been described previously. In addition to the importance of regional specificity, we discovered that eSAPS (unlike eCAPs) are partially attenuated at therapeutic stimulation frequencies (50 Hz) compared to slower test frequencies (1 Hz). This result was particularly compelling, as it suggested that eSAPs are sensitive to therapeutic dosages or that they measure a change in the spinal cord associated with therapy. This experience was a valuable learning opportunity for me, as I had not previously employed these techniques.
"I believe that bridging the gap between research and practical applications is crucial for translating scientific discoveries into impactful solutions."
In your view, what is/are the most valuable contribution(s) of this manuscript to the field and where do you see the project going?
The discovery of a novel signal known as "eSAP" or evoked synaptic activity potential could be a valuable contribution of the manuscript to the field of spinal cord stimulation (SCS). SCS is used not only to treat chronic pain but also in studies related to rehabilitation, such as restoring movement after spinal cord injuries. It is universally recognized that for all these treatment indications, clinical success depends on tuning the stimulation for each patient. However, the stimulation parameter space is very large, making it challenging to fine-tune the dose solely based on clinical observations. Therefore, the development of eCAPs as a fast biomarker for SCS was a breakthrough toward personalized and optimized SCS.
In my eNeuro paper, I described a new signal, the eSAP, and demonstrated that it provides unique information about the spinal cord's state and stimulation tuning. While eCAPs reflect the superficial transmission of axons, eSAPs reflect processing within the spinal cord. Although further work is needed in preclinical and clinical studies, I am excited about the possibility that eSAPs could serve as a new biomarker for optimizing SCS.
How was your experience with the eNeuro review process? How did it compare to other journal publication experiences of yours? Do you have any thoughts on how the scientific review process can be improved?
My eNeuro review experience was smooth and efficient. I commend their commitment to open access, which promotes accessibility and collaboration in research. eNeuro's reviewers were professional, offering prompt and constructive feedback that significantly improved our manuscript. The user-friendly online submission system streamlined the process.
I believe ongoing efforts to boost transparency in the review process and to support open science practices like study pre- registration and replication study recognition would enhance research rigor and credibility. Overall, I had an outstanding experience with eNeuro, appreciating their dedication to open access and scientific excellence.
"[…] ongoing efforts to boost transparency in the review process and to support open science practices like study pre- registration and replication study recognition would enhance research rigor and credibility."
Dr. Mahima Sharma: LinkedIn
Lab Website: https://www.neuralengr.org/
Read the full article:
Novel Evoked Synaptic Activity Potentials (ESAPs) Elicited by Spinal Cord Stimulation
Mahima Sharma, Vividha Bhaskar, Lillian Yang, Mohamad FallahRad, Nigel Gebodh, Tianhe Zhang, Rosana Esteller, John Martin, and Marom Bikson